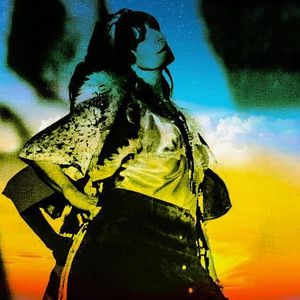 Multi talented award winning songwriter & actress Jane Allison was born in the Welsh seaside town of Aberystwyth as Jane-Alison Sherman. Her performing career spans the creative landscapes of both music, theatre, TV & film.
In her youth she trained as a dancer at Trinity Laban and was married to Pete Harker, drummer of John Peel favourites, underground cult band The Lines.  During this time she was fully immersed in the London punk scene with bands like The Only Ones & dance companies such as DV8 & Diversions. It was amongst this explosion of innovative creativity she began to realize a lifelong passion and diverse artistic career. 
Jane's musical path began in the early 90's singing with psychedelic folk band Childe Roland. In the year 2000 she formed new wave post punk band KarmaDeva ,touring across the UK and Europe, sharing the stage with bands like Boxer Rebellion, The Holloways, Super Furry Animals and supporting legendary acts such as The Damned, Lene Lovich and Arthur Lee and Love among others.
In 2011 Jane moved to Berlin, living in Neukolln on the banks of the Landwehrkanal she embarked on writing her solo works.  Jane says of her time in Berlin..."I can't express the feeling of creative & personal freedom I feel there. Berlin put a beautiful spell on me, one I've never woken up from" 
During that time Jane came home to roost musically with her own blend of 70's English folk revival and Americana.  Upbeat bars of lightweight ditties, with biting eloquent lyrics revealing withering accounts of obsessive love, ill-fated romance, abuse and its aftermath and faded dreams. Embracing the darkness while also seeking the light is core to Jane's songwriting. 
All her records are recorded and produced at the Tea Rooms Studio in the heart of the Ardennes under the musical wizardry of long time friend, producer & musician Alonza Bevan ( Kula Shaker.)
As an actress Jane is best known for her comedy character roles, the most recent being GCHQ's geeky cryptanalyst Mary Needham in the TV comedy Intelligence written by Nick Mohammed & starring David Schwimmer. Seasons 1 & 2 of Intelligence is OUT NOW on Sky TV and Now TV.   Jane also stars as Deborah in the Julia Davis Bafta award winning comedy series Sally4Ever.  Other TV & film acting credits include award winning TV series Hunderby,  Nighty Night, Morning Has Broken, Human Remains and the movies  Slaughter House Rulez and A Fantastic Fear Of Everything.
Her continued successful writing partnership with dark star Julia Davis traverses subjects of death, illness and the wincing, pathetic absurdity of human relationships with surreal imagination and gallows humor.
Jane has three albums under her belt and began writing album #4 during a recent month in Berlin.